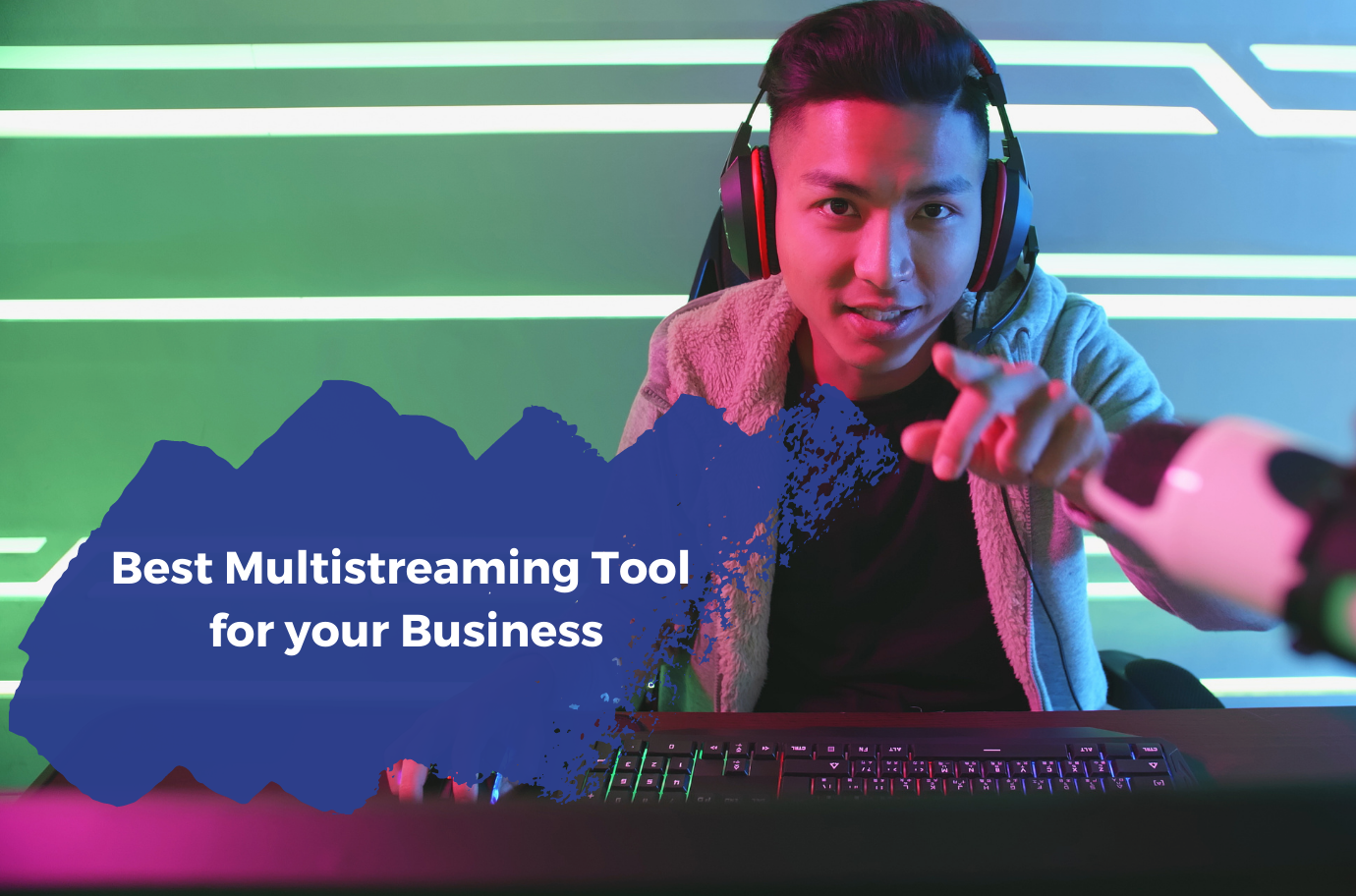 Selecting the Best Multistreaming Tool for your Business
We hope that this article will allow you to choose the right live broadcasting applications to fit your streaming requirements.
There is too much to discover when it comes to professional live video streaming. However, since a high-quality professional multi live streaming platform is a very effective broadcasting tool that providers frequently update, ratings and comparisons are difficult to find which contain all the details that you need. It may be a struggle to critically evaluate the opportunities open to new broadcasters who choose to get into the streaming game. We also produced an analysis of ten of professional broadcasters' best distribution channels and six social video streaming solutions useful to enterprises, too.
Understanding the key tools for live streaming:
It will be nice to go over a typical live streaming setup until you can decide on the right streaming apps. Although some modifications are allowed, the basic structure is rigid, and contains:
An audio/video source – to provide the stream with content.
A card to attach your device to a non-USB camera.
An encoder — the input can be bundled and sent to a streaming platform, or an RTMP server.
To pass data to the destination, a secure Internet connection.
A subscription service – the destination and the production.
What is Software for Live Streaming?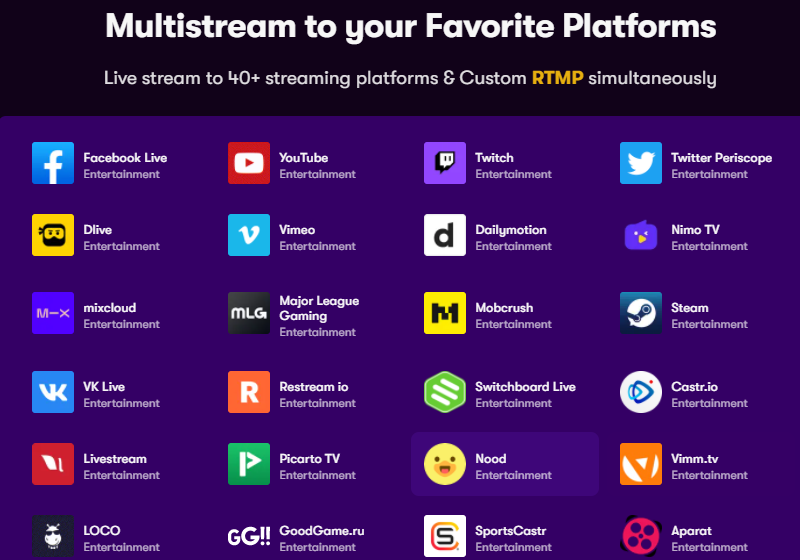 Both captures must be "packaged" in more realistic form when the camera is turned on. You typically want the data to be transmitted through connections to appropriate upload speeds by applying enough compression. In addition, the encoding process should be accepted on the streaming site (Facebook, Instagram or another). The encoder is involved in this process – a component of the setup that serves as a video configurator between the input and the output. There are two types of encoders:
Hardware encoders — stable and predictably well encoded machines for video encoding. Yet they come at a high price and are a single trick — they're all coding.
Software encoders — software programs utilizing hardware of the client computer to perform encoding. You can use any of them free of charge, turn and create a scene, or use them for multi-camera setup.
If you are a serious content manufacturer, editor, or money-burning citizen you would usually rely on a software encoder. You should take care of your encoding needs with your broadcasting program of choice.
What are the Core Aspects of Live Broadcasting Software?
Many aspects are common to the currently popular streaming apps. To find a workaround without H.264 encoding — the most commonly used video encoding format today possibly, you will have to look very hard.
There is, though, a considerable amount that differs between various solutions. If you are firm in seeking to find the right applications for streaming, it might be helpful to look at a surface level – much more than how coding operates. You should therefore be looking for a few main features, such as:
Potential questions of compatibility. Most ingestion of streams takes place via RTMP or Real Time Multimedia Protocol. You can use most social networking and website Streaming tools for live streaming. But review server compatibility problems if you are using alternative content distribution networks.
Advanced features or extra features. Live broadcasting software is available in various levels with various levels of difficulty and characteristics. You will only fall in love with a solution to find that it does not necessarily satisfy the requirements. The easiest thing to do is to learn this early.
Price. There are some freeware streaming applications. Indeed, it is possible that the most common solution is at no expense. However, bear in mind that such for-paid content enhancements will make your live stream more desirable.
When you look at all three features you can skip the streaming app solutions you can't use at all. If you don't support your platforms, or miss main features, there's no reason to use them if they're not in your pricing range.
Software to be Considered for Streaming?
Software encoding can be important only when you have total control over your live streams. You can now start streaming live only by pressing a single button on your browser. With Livepush.io – a live streaming app that helps you to create professional streams on various channels in seconds. This and a lot more is possible.

Yeah, you understood it absolutely right. Indeed, through Livepush, you can hit as many channels as you want. Multi streaming will go a long way to improve the popularity of live streaming or simultaneous streaming on many channels. Thanks to Livepush, it's all easy:
Help for the top 30 channels serving national, regional and specialty networks. It's just as easy as signing into your account to stream to YouTube Live, Facebook Live, Twitch, Linkedin and Twitter.
Set up and run quickly. You don't have a single item to import or install. Livepush.io provides an intuitive relation that enables channels to be connected to your device.
It functions for your encoding program, so Livepush would usually do if your encoder does not have native device support.
This is free. You get most features for free, but Livepush will have options to buy you when the time comes to update.
Encoding:
Live broadcasting program turns the video feed into a proper live streaming format. Film cameras normally use recording formats, but for internet sharing they are not ideal. Radio programs are also essential for the video transcription or replication of the video file in various sizes and qualities. This usually uses the HLS streaming protocol or RTMP encoders. As the encoders serve this purpose, live stream encryption software is also named for the better HLS-enabled broadcasting program applications.
Cooking and Production:
The principal aim of live video mixing program, otherwise known as live video swapping, is to pick and view multiple sources during live broadcasting. In short, mixing is a method of editing on-the-fly used for many decades by the television industry.
The apps we cover will also combine all streaming software below. These encoders help you to perform several tasks quickly in a live stream that is key to a good live stream.
The overlay software can be used to do the following:
Multiple cameras switch
Video and audio live Feeds from various outlets
Insert a still picture or video when broadcasting live
Conclusion:
You got it there. These are our options for 2021's best live apps. Streaming software is important as a professional broadcaster. That's what helps you to incorporate the technical touches you will find on typical TV shows. We hope that this article will allow you to choose the right live broadcasting applications to fit your streaming requirements. We also wish you the chance to pick one that suits well for you with our analysis of our top-class video programming. Would you like to test the program you have selected using a streaming site and competent video hosting?? Register for the Livepush free trial to see how the live streaming app works



---