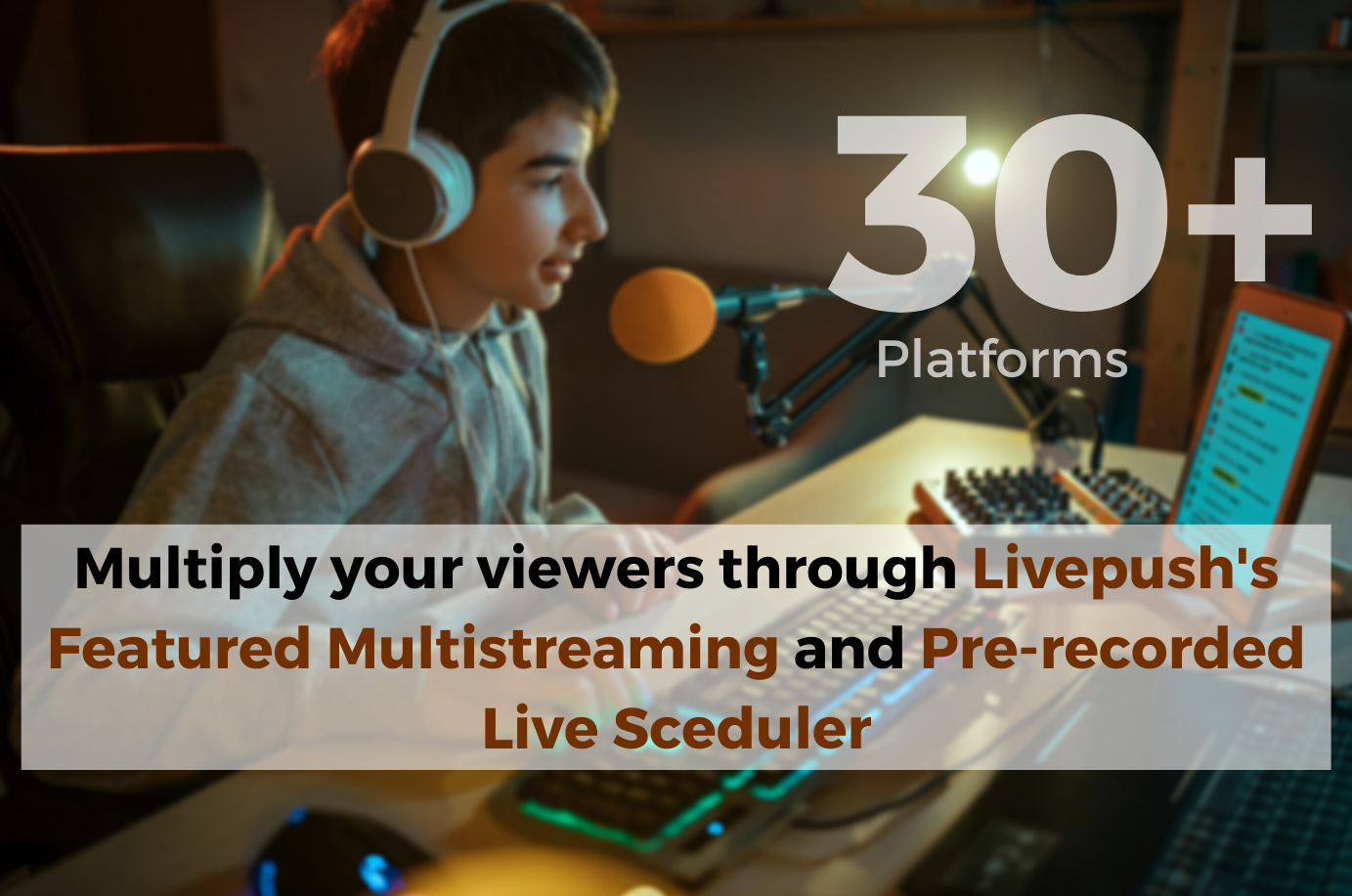 Leverage Live Stream Scheduling for your Brand
Live multi stream is awesome. It provides immediate contact without any other content. Publics watch it as often on subscription-based sites
Hello everyone and welcome to our multi-streaming website.
Livepush is a perfect multi streaming website. It is basically a scheduling tool which is used to stream live on multiple websites which includes Facebook, YouTube, twitch, and many other popular platforms.
Live multi stream is awesome. It provides immediate contact without any other content. Publics watch it as often on subscription-based sites on social networks and on gaming places. The easiest way to stream to multiple platforms for free is to make the broadcast concurrently through various channels. There is no easier option than Livepush when it comes to multi-screening. In following ways, Livepush will help you with scheduling of your brand.
For anyone who makes content, it has to be too difficult to get multi streaming to several websites. In general, content designers need to take into account two aspects: the networks they use and their intended multi-streaming of hardware, applications or services. The way developers record multi-purpose photographs and what they can do for daily broadcasting does not vary. This image must be fed into the hardware, software or cloud service, which will then transmit contents concurrently to various platforms like Livepush.
Benefits of Multi Streaming:
Every network they used meant a new show, before the developers could multi-screen. You have no choice but to make a different stream for any of these if you used you, for example, Twitter, Twitch and Facebook. This ceases being a challenge as content producers multi stream. In conjunction with their time, developers are able to choose several channels without caring about bandwidth or other limitations. For you as a creator, this option of Livepush is important because it makes you:
Using overlapping channels for niche and mainstream. The main audience is on niche sites. Continuous networks help you get out of your niche.
Make use of each platform's specifics. Facebook is notable for its analytics and scale, while LinkedIn is renowned for its more particular audience. The use of them at the same time is just advantageous!
Explore your audience and your developing networks. When new content distribution networks are unveiled, it could be used in place of the existing networks by a part of the audience. You do not need to choose between new and existing networks thanks to multidisciplinary approaches. Any of them can be seen.
Without major new investments, developers will produce improved outcomes. There is no big initial cost to stream to several pages.
Streaming to different platforms gives content producers a world of opportunities. If their aim is to target new markets or keep in touch on the channels that they choose with particular parts of an established audience, multiple diffusion helps artists.
About 30 Platforms for Multi Streaming are Supported: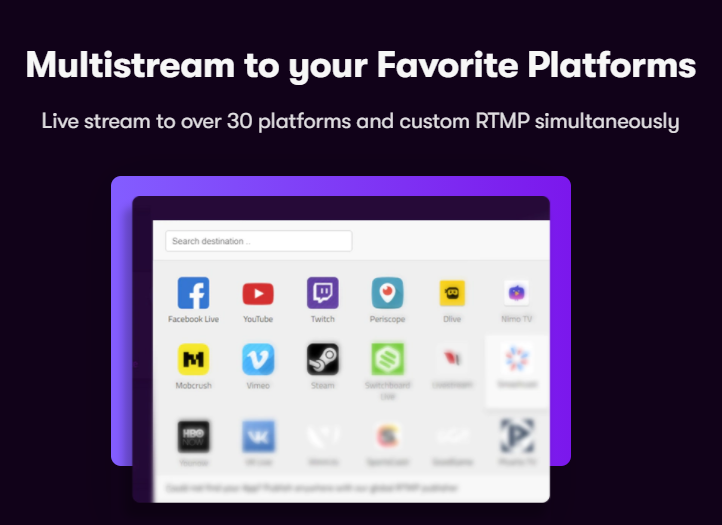 How long can you list streaming platforms? YouTube and Facebook have their own live video streaming sites. There is Periscope on Twitter and LinkedIn has its own live streaming service. But then Twitch and Mixer are available for players and the maker of other content. Vapers.tv is for vapers, musicians are for Picarto.tv, CIS people are for Vapers.tv and South Korean streamers are for AfreecaTV. Not everything. This isn't everything. If you need to multi stream a certain network, but it doesn't have Livepush support, don't worry.
Livepush will Monitor your Brand Scheduling in Meantime:
No matter how important it is to analyze the performance data after a live streaming session has been completed, it might be more important to have the same data on the live stream. If the quality of your stream is wrong, it's better to fix it as soon as you can instead of losing spectators. With the feature of Livepush Monitor, you can always get all the information you need during the stream. You can see your current bitrate, the interval of your key frame, frames per second and dropped frames as well as your video and audio codec. The parameters can be unprecedented. One of the favorite digital world adages — content is king — applies to live streaming regardless of the number of channels to which you stream. However, it is just as important for your audience to understand how your content interacts. In fact, analytics could only be king with content. There would be no point in using a multi-transmission service that does not provide you with analytics. For its part, Livepush provides you with many very useful data points to analyze the performance of your content. Livepush analytics is the perfect tool to gain an actionable understanding of your audience's resonance with your content, whether you are presenting time on streaming or the number of ordinary users, chat or chat reports and peak activities.
Unlimited Time, Unlimited Rate of Streaming:
Ideally, you want to decide how long you can take to relax. If you want to stream as much or as long as it takes to finish a cricket or a baseball game, or deliver an inspired sermon to your competitors, that's just a choice. If you want the networks to permit it, you do not cap it with multi-purpose facilities. Yeah, that's not Livepush. It helps you to pick how long you want to watch. Livepush's not capable of talking about stuff but even infinite bitrate is helpful. There is no need to pick between consistency and quantity – you can have both with Livepush. Only make sure that your streaming wellbeing is not affected.
Livepush Scheduler Streams Pre-Recorded Video:
Live streams are for live material, okay? False. You can script, train, log, update and develop live stream content previously. You get all the advantages of creating material at your speed and broadcasting it live to a waiting audience.

This is very simple. It is very simple. The video that you want to stream is created first. Then you upload it to Scheduler and pick the date and time for the video to be broadcast live.
Handling Many Chats:
The words "engagement" and "live streaming" were sometimes used for a good cause in the same sentence — live streaming is excellent for the viewer. Just think about it. Someone watching you speak to you, and as they listen, you can respond in real time to your comments. This is the remarkable promptness of video streaming, which has much to do with live messaging.
But how do you choose the viewer you can talk with as you intend to concurrently broadcast to several channels? If you have a good amount of followers, it can be very difficult to keep up with a single conversation. It can be virtually difficult to juggle two, three or four chats.
The solution to the dilemma also comes from Livepush. Livepush Multi-Chat simplifies chatting by viewing all messages in the same browser.
Final Verdict:
Livepush has plenty to give anyone interested in live streaming, especially if they plan to stream on multiple platforms. With all the functionality mentioned in the above list and a dedicated 24/7 support team open to all web members, it has all you need to do. However, Livepush recently took another step in ensuring that citizens at all types of technological expertise and even the most common equipment have access to multi streaming resources. Livepush Studio is a solution for anybody who wants to give it a try. It is easy to use, efficient and manage the live stream in various streams in front of the public.
---