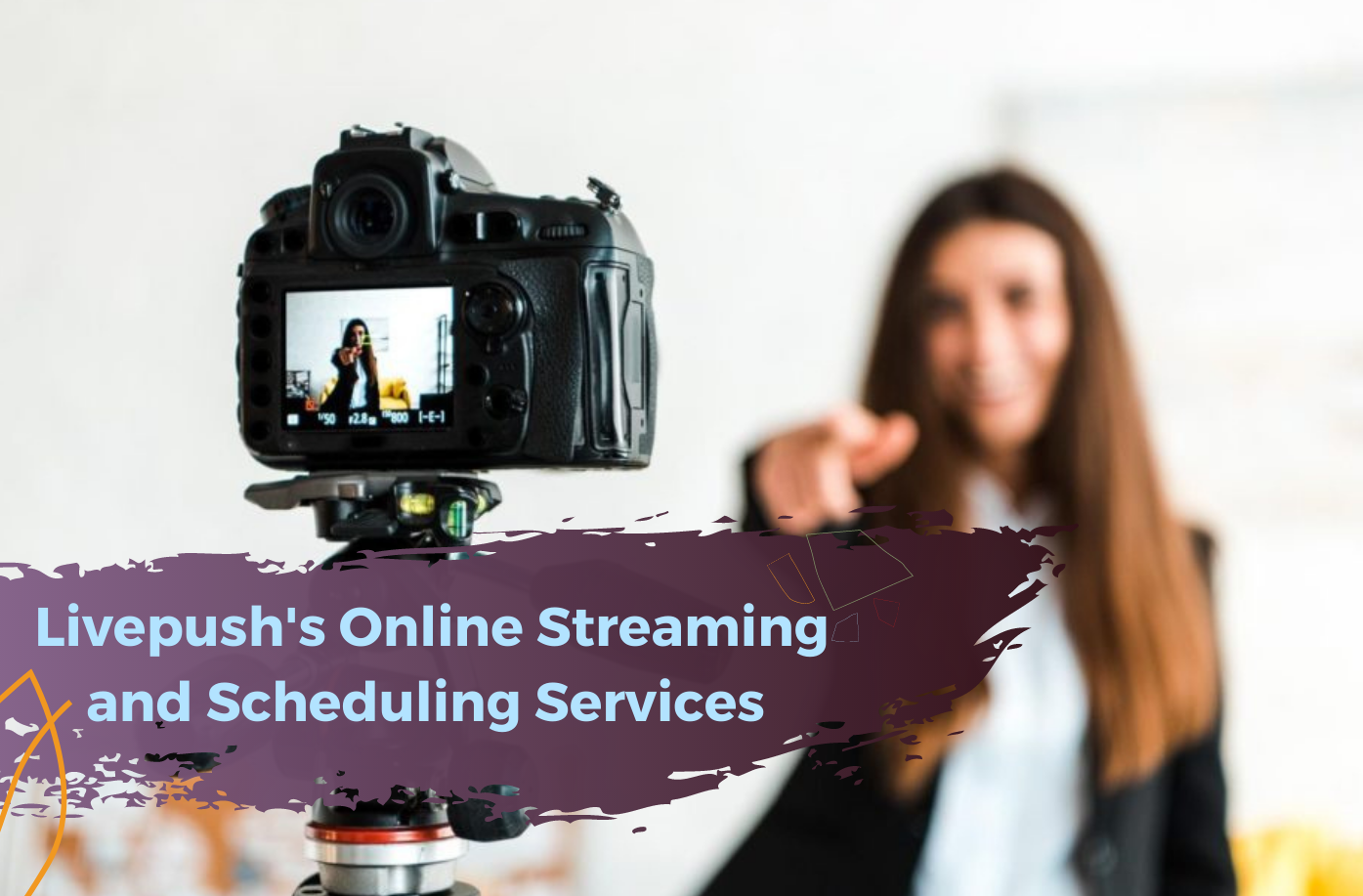 What Makes Livepush Online Streaming and Scheduling Services Worth it?
You can multi-stream your video content to many streaming sites. From Facebook page and get, YouTube and more than 30 other destinations.
Are you looking for a platform to stream your content? Fortunately, you can get all of that on Livepush. You can multi-stream your video content to many streaming sites. From Facebook page and get, YouTube and more than 30 other destinations. That's so exciting. Well, check out more of Livepush Online Streaming and Scheduling Services that make it so amazing.
- Simple and Easy
First of all, starting a live stream with Livepush is just easy and stress-free. It can happen in three simple ways. The simplest of them all is to use your webcam to go live with your webcam. All you need to do is to select webcam streaming from the Livepush dashboard to stream instantly. If you want to go live from mp4 videos, you just upload your video via the Livepush Pre-recorded Live dashboard.
You create and save a new live stream schedule, selecting "Start Immediately" if you want to start streaming instantly. Suppose you have a published encoder software/device or video producer. In most cases, OBS software works perfectly and is a tremendous free streaming tool. But Livepush does not limit you to this one as you can use any software you want. It's as easy as cutting butter with a hot knife. You just choose any of these methods, and have your live stream.
- Live Streaming to More Than 30 Platforms

When you use Livepush, these cool features blow your mind. In addition to using a private RTMP server, the website can live stream to more than 30 platforms. Not only that, you can sync streaming profiles from Facebook, YouTube, Twitch and get RTMP keys from them. You just copy RTMP server keys from the Livepush dashboard and paste them into your publishing device. Also you can publish your live streams to multiple streaming websites. And when it comes to bandwidth; Livepush got you covered. More so, you can manage each platform setting separately. Actually, they have easy guides on how to connect your streaming sites to Livepush.
- Cloud Space to Save Videos
At Livepush, they understand time is never enough to re-record the same videos. They give you the space to save your videos and download them later. Imagine live streaming recordings in the cloud, it's amazing. If you are asking yourself, what if I want to use it somewhere else. Well, you can download it and use it to your liking. You can also live stream from MP4 videos. If you want to post them later, Livepush allows you to schedule them.
- Real-Time Stream Analysis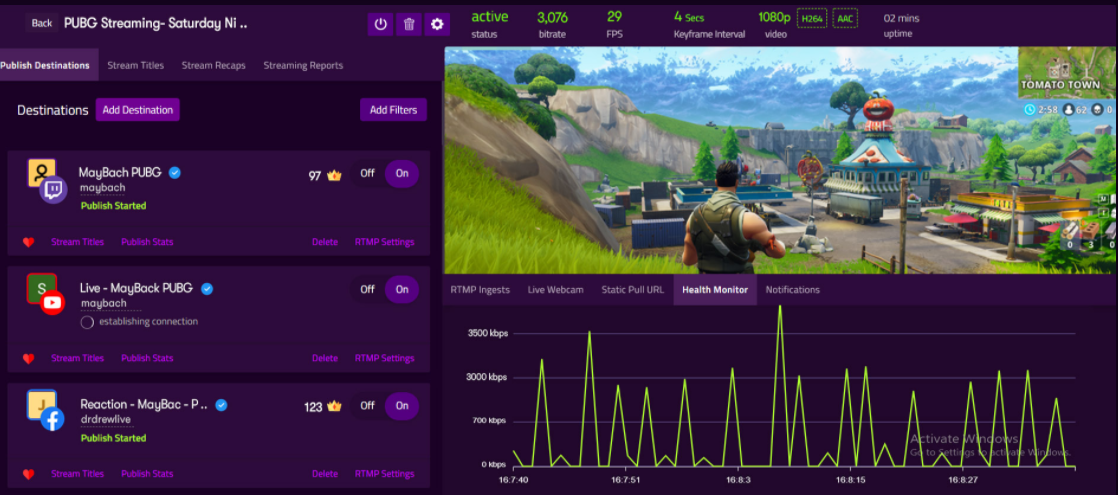 One feature I like, and I bet you will, too, is the real-time stream analysis tool. With this, you can count your viewers, monitor your video resolution, bitrate, bandwidth, and so forth. You can't spend time worrying about how good the connection is from your device to the Livepush RTMP server. It also goes further to monitor connections from the Livepush RTMP server to the added streaming sites as your content is important. You can see how your video is impacting while you are streaming it. Thus they provide you developer API Tools to build amazing live-streaming apps. These come on top of the Livepush ecosystem. So you can spend time on your app perfecting your video, not troubling yourself with streaming problems.
- Servers in Multiple Locations
When we talk about servers, Livepush is the best. Livepush has multiple RTMP servers in various places worldwide. No need to worry about bandwidth and latency. You just live stream to the RTMP server closest to your location. With this, you are assured of exceptional speed and stream your video without hiccups. You can take advantage of extra cool features like linking your streams to your Facebook, YouTube, Twitch accounts. On top of that, Livepush gives you private encoder RTMP publishing and much more.
- 7-Days Trial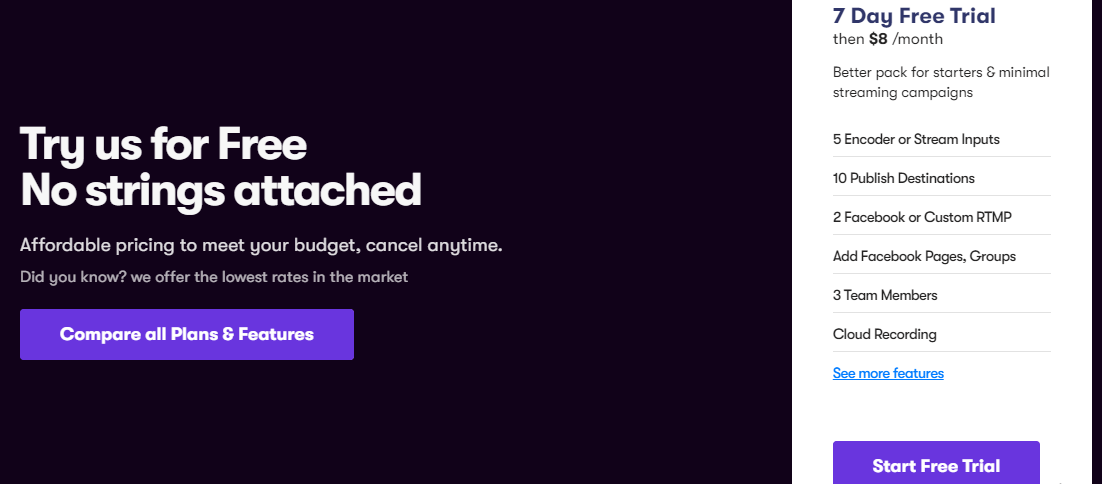 When you sign up for Livepush, the first 7 days are free. This Free Trial is worth it as you are able to analyze the platform. And if you stay with Livepush, you will enjoy future free plans when they surpass their basic expenses. After the expiry of these 7 days, you can choose from  paid subscriptions which are as little as $8/month to $50/month plan. Their pricing page includes all the essential information for you to pick the best plan. They accommodate your needs and these costs will cover server infrastructure, support, and development resources.
- Easy Sign-Up
Signing up for Livepush is very easy and exciting. You simply go to the Sign Up page and enter your email and password directly in the sign-up form. Alternatively, you can import your details from Facebook, YouTube, or Twitch. It's just a matter of clicking to log in to those platforms. These are not your streaming details but just basic ones. To start enjoying live streaming, you must verify your email. Check your mailbox for your welcome email. This is accompanied by an activation link, which you have to click to verify. After confirming, you will enjoy the Free Trial.
- Infinite Loop 24/7
Another valuable opportunity Livepush gives you is to live stream 24/7 with an Infinite Loop. You can have multiple MP4 live streams for non-stop playback until you decide to stop it from the dashboard manually. On your main dashboard page, you simply go to the Pre-recorded live dashboard, afterwards to "My Schedules'' and click on "Enable Video Looping." A "New Event" dialog box appears for you to set up a name of an event and add videos to the event. You put the name of your event under the label written "Event Name." Choose videos you want to loop from the videos you have uploaded before. If you're going to choose them all, check the option "Include all videos." If you haven't uploaded any videos, they have an easy guide on how to upload videos. You save your videos and enjoy looping even when you are not around.
- Multi-Chat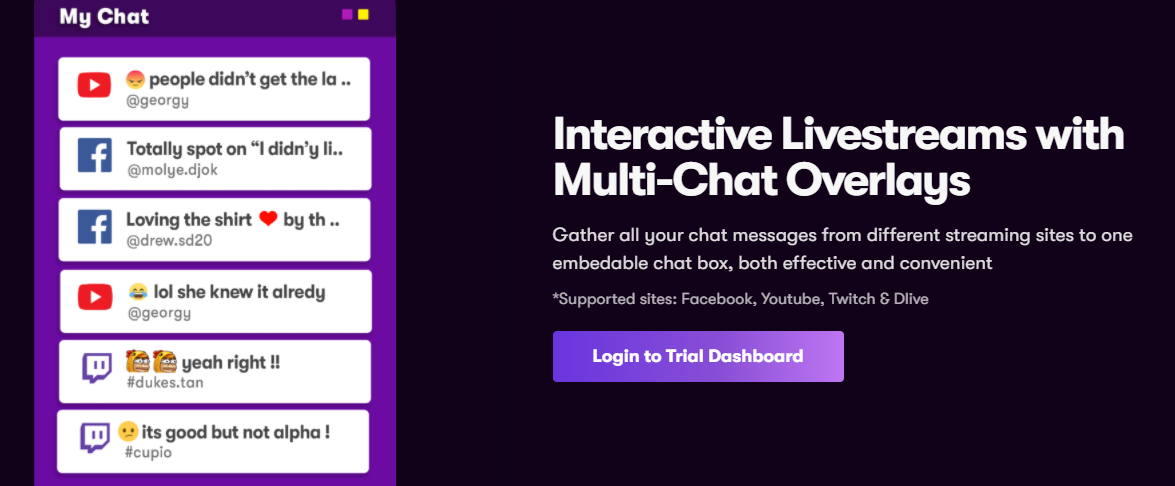 Obviously, after posting content, you would want to chat with your audience. Livepush gives you a multi-chat overlay URL, which enables you to view chat from multiple people just in one box. If you have teams in your live streams, you can efficiently manage them through our team support tool.
Final Words
Live streaming has never been made this easy. With Livepush, you enjoy it and making sure your content reaches a big audience in your social networks. By reading the marvelous feature the website gives, I'm sure you can see that it's a website worth checking out. You have realized that when it comes to online streaming and scheduling services, Livepush is stands out from the crowd.
---