How can you Multi-Stream to Facebook and YouTube at the Same Time?
All you need is just a special program, hardware, or multi streaming service, that is used to various platforms and that takes your stream.
The two world's most popular Web sites are Facebook and YouTube. All of these have a live video multi streaming service, so it is no surprise why more users want to learn how to multi-stream to YouTube and Facebook simultaneously . Saving time, doubling the crowd, and doing it all at once is meaningful. But how do you stream concurrently to Facebook and YouTube? This is super basic! It is super simple! No matter what you know about live streaming, you can quickly continue to stream to several channels simultaneously.
All you need is just a special program, hardware, or multi streaming service, that is used to various platforms and that takes your stream. It is called multi-streaming and it's something everyone can do at home comfortably and professionally. Read this blog, if you're new to live multi-streaming, as we clarify the fundamentals and share some clear directions in a friendly and comprehensible way.
Why do you Use Multi-Live Multi Streaming at the Same Time?

Not to mention, the on-demand video market is more competitive. This points us to the fact that live multi streaming is on this basis already far more advantageous. Let's now discuss the big benefits of live multi stream
Performance in cost-effectiveness. The first thing that stands out is that live multi streaming will just cost you time. It is as easy as picking and pressing a few keys on your phone or device. And even though you choose to create quality content, it can be ten times cheaper than making a short pre-recorded film, editing, and distributing it with the public on TV. Message the viewer in real-time. Live multi streaming helps content designers to connect with the public in real-time. Live multi streaming is so immensely popular due to this reason. The contact provides a sense of presence, saves the audience a lot of time, and keeps them very amused.
Greater penetration of viewers. Live broadcasting unites people on a single network globally when it comes to universal effectiveness. Multi streaming, meanwhile, completely removes constraints and establishes a higher norm for meeting the audience. You can stream to all of them simultaneously, and thus dramatically increase the number of active users, instead of multi streaming to just one platform like YouTube or Facebook!
Currently. Actually. Live content will have a very beneficial impact on the image of your company and raise exposure when done in the right way. In comparison, behind the scenes and Q&A, an average group will magically become the most faithful.
What do you Need for Multi Streaming Facebook and YouTube at the Same Time?
The first thing you need to do is to ensure that you have accounts on these websites if you plan to stream to several websites. You can directly stream to your profile or page via Facebook. YouTube requests for the live multi streaming feature to be allowed before you can use it. Next, you need to get some multi-screening devices or apps on your hands. Multi-channel hardware encoders, streaming software, and cloud-based multi streaming are among the choices. Any option has its benefits and drawbacks and cloud providers are typically the safest, most economical alternative. The next move is to connect your multi streaming channels with a multi-streaming system or service. This can be as simple as signing onto a social media site or attempting to locate very complex hardware based on the preference of multi-purpose equipment or operation.
You're able to resume multi streaming after you've finished with it. Of course, once you understand that it is good practice to emulate these two platforms, so you will achieve even better outcomes from your sources. Let's explain that you're fantastic at Facebook and YouTube.
How to Stream Simultaneously Via Livepush to Facebook and YouTube: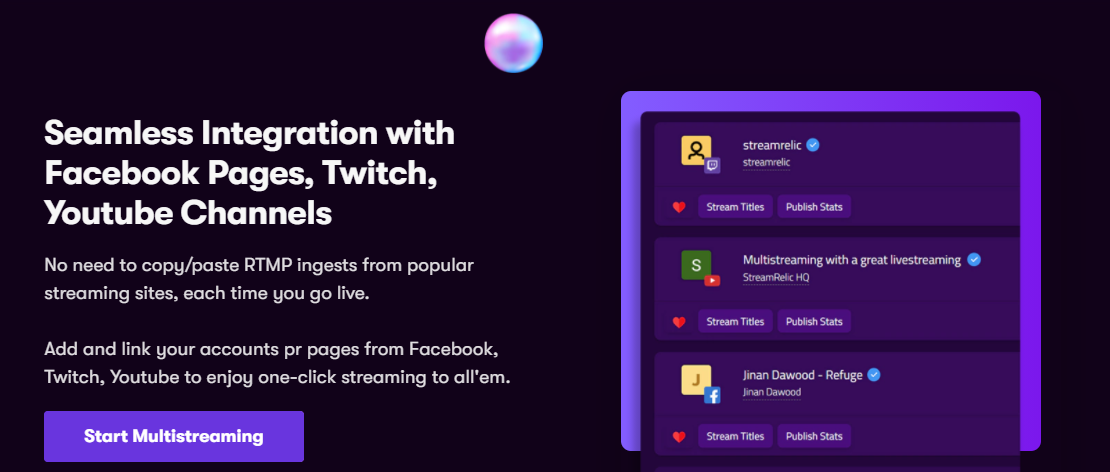 There is a very low entry bar for Multi streaming. People multi streaming content have the devices they need already. There's the camera, the microphone, and the Internet. What's required otherwise? A stable software developed specifically for that reason is another thing you need to start broadcasting on multiple channels.
Livepush Studio has also several other features that can be used to enrich the various content on Facebook and YouTube. You can share your computer with viewers, for example, or moderate your live chat, which can be helpful.
Why Stream Concurrently to Facebook and YouTube?
The live multi streaming industry typically expanded by 99% between April 2019 and April 2020, and according to Grand View Analysis, the live multi streaming market is expected to be over $180 billion by 2027. Why does this happen? The response is very simplistic but impressive. Live videos now have much better buffering than before and start times. Despite that, 80% of people choose to read a blog by watching a live stream.
The top giants remain immovable amid the advent often of major live multi streaming services. Twitch, Facebook Live, and YouTube Live are the most popular live multi streaming sites. The socials, including LinkedIn, Facebook, Instagram, and Snapchats, are other worthwhile mentions.
Facebook and YouTube are perhaps the best of the various variations of live multi streaming across social networks and video sites. Both have a large draw, as can be seen by their fame. Also, you can enter niche audiences with your content.
Both sites will provide the fans with the means to keep in touch and develop them. It is an intelligent decision to use Facebook Live and YouTube Live since it covers all important aspects for producers of content, including promoting, development, networking, and monetization. That's all you need, pretty much. So how do the two major multi streaming services differ?
Live is a major feature focused on Facebook. On the other hand, YouTube Live depends on the video hosting service. This distinction should be mirrored in your preference of live multi streaming form.
In video resolution, there is a disparity. Facebook Live has Full HD support, while YouTube supports up to 4K@60fps. This means when watching on Facebook, you can't get the best out of your professional streaming. On the other hand, YouTube will justify why you waste so much money on a camera and other equipment.
The Facebook population varies by age and participation from the YouTube public. Thus, the subject and the form of your living streams must be chosen thoughtfully. Young people are more than Facebook to visit YouTube. Facebook is not surprisingly popular with people aged 30 and over.
Conclusion:
It is not an important secret of the emergence of live broadcasting. And it became much more common because of the global pandemic. Traditional television and journals are dying, as the video industry expands every day. You will broadcast concurrently on YouTube and Facebook with Livepush Studio. You can potentially watch as many channels as you choose, such as LinkedIn, Twitter, Twitch, etc. Multi-personal contact is the perfect way to optimize your public reach, improve brand recognition and increase your sales. And above all, it's incredibly simple.

---